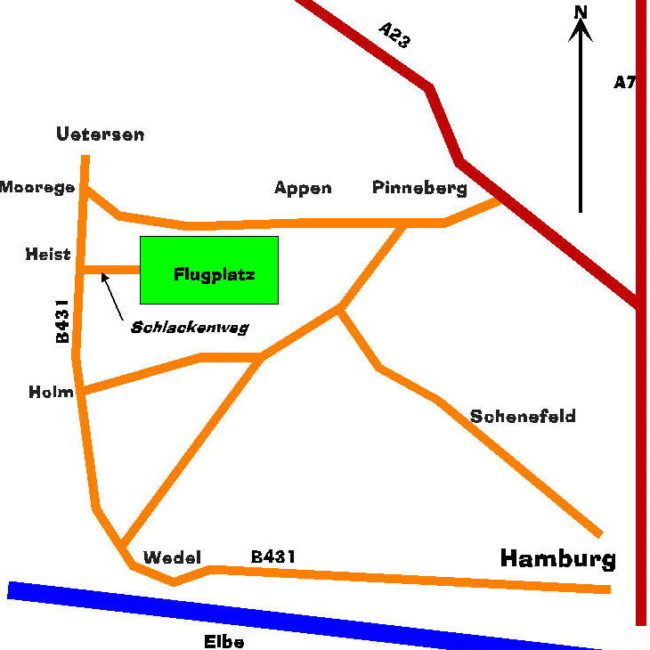 How to reach us by car
Unfortunately it is not practical to reach our airfield via public transport. The entrance to our airfield is from the B431 road between the villages Holm (to the South) and Heist (to the North). Assuming one starts off from Hamburg drive along the B431 through the town of Wedel, continue through Holm and a few kilometres later in a wooded area turn right (signpost "Flugplatz").
If you travel on the motorway (Autobahn) A23 from Hamburg it is best to take the exit Pinneberg Süd and drive via Thesdorf and Appen-Etz, in order to reach the B431 in Holm. Drive in the direction of Heist to reach the airfield entrance.
From the Autobahn A23 in the direction of Hamburg take the exit Tornesch, and drive via Uetersen, Moorege and Heist (B431) to the airfield entrance.
Follow the signs to the Tower-Restaurant to the gates of the airfield.
At the airfield
The runways on Uetersen airfield are oriented in the East - West direction. Gliding operations take place on the Northern side of the airfield. To reach the launch areas you must proceed around the airfield (no short-cuts!).
Legend:
A) Immediately on entering through the airfield gate you will find a small parking area on the left. Please do not drive/ride through the gate if it is open - this is for club members only. To the left of the gate are information displays from both gliding clubs. If there are no gliding operations in progress you may find club members in the buildings on the left.
B) Here there is a sign "Nur für Piloten". Proceed past this but take care as there may be many cyclists / pedestrians on this section. If anyone stops you say that you are going to visit the glider pilots.
C) At this point the asphalt road goes under the wire fence of the military area. Do NOT park here - proceed parallel to the fence, staying close to it and (if the wind is westerly) beware of landing aircraft.
D) If the wind is westerly the launch point will be at "Start 27". Park against the fence and walk to the "Startwagen": LSV Pinneberg.
E) If the wind is easterly the launch point will be at "Start 09". The winches (used to launch the gliders) will be near "Start 27". Proceed close to the fence to "Start 09", there park against the fence and walk to the "Startwagen": LSV Pinneberg.
F) Since there are two gliding clubs on the airfield make sure that you ask for "Luftsportverein Kreis Pinneberg".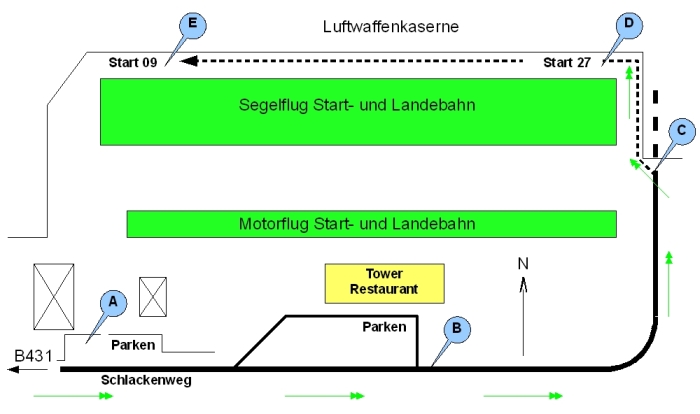 Our "Startwagen"